Testing the Selettra ignition
Some of the Selettra components can be subjected to a resistance test.
A digital ohmmeter should be used to test Selettra ignition components. Do not use an analog measuring device as it is not accurate enough.
Note
Do not check the components when they are still hot! You have to let the components cool down to room temperature before testing them!
Insert a probe into each end of the two wires after they have been disconnected from the stator coil.
For an analog stator, it doesn't matter which probe is used on which wire.
Note
When testing the ignition coil, check directly on the ignition cable and not via the spark plug connector.
Units can operate slightly above the recommended range with test results.
If the readings are in the lower end of the scale, but the system is working properly, damage can be assumed.
To be on the safe side, the component should be replaced with a new one, as a short-term total failure can be assumed.
Recommended range
Stator Type
Stator Type Measured value
(Measurement with direct voltage at approx.20°C)
Number of windings
KZ 2200 90/94 48mm
102 Ohm ± 10%
2200 Windungen
KZ 3200 90/94 48mm
162 Ohm ± 10%
3200 Windungen
P3356 90/94 58 mm
115 Ohm ± 10%
2700 Windungen
NO2019 90/94 034-IG-14
57 Ohm ± 10%
2400 Windungen
A11 90/94 58mm
200 Ohm ± 10% ca. 180 – 220 Ohm
3700 Windungen
Mini 034-IG-75
80 Ohm ± 10% ca. 216,6 – 239,4 Ohm
Components on which a resistance test cannot be carried out and which must be sent in for precise testing:
Markings of the different Selettra systems:
Selettra KZ10 analog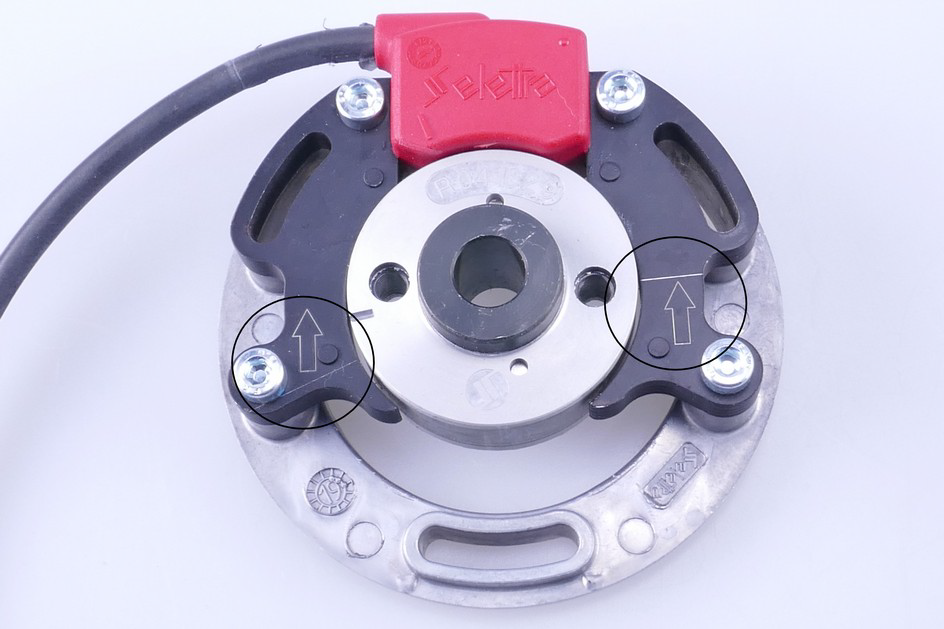 Stator 2200 Wdg 90 mm DMon 00131230
Stator 2200 Wdg 94 mm DMon 00131231
Stator 3200 Wdg 90 mm DMon 00131228
Stator 3200 Wdg 94 mm DMon 00131229
Coil A10 DMon 00131222
Coil A20 DMon 00131459
Coil A2 DMon 00131215
Rotor 48 mm R041029
Basic setting: eg. 20 – 25 degrees before TDC. See diagram above

Selettra KZ10 digital 2 strokes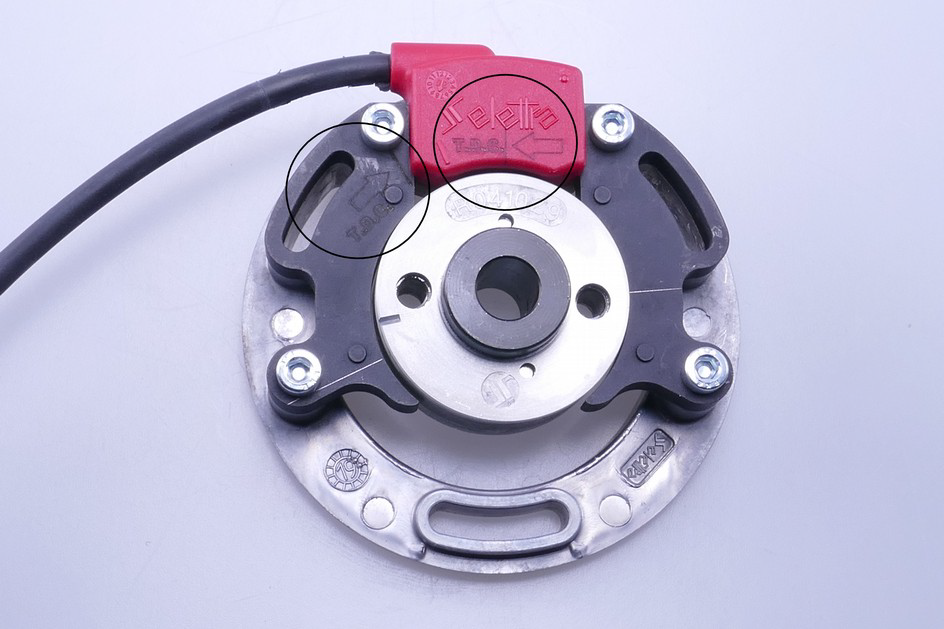 Stator 3200 Wdg 90 mm DMon 00131228
Stator 3200 Wdg 94 mm DMon 00131229

Coil KZ10 Digital DMon 00131232 0301256001/0301256002

Rotor 48 mm R041029
Basic setting: Piston on TDC.
Selettra KZ10 digital 4 strokes
Stator 3200 Wdg 90 mm DMon 00131228
Stator 3200 Wdg 94 mm DMon 00131229
Coil KZ10 Digital DMon 00131232 – 0301256001/0301256002
Rotor 48 mm R041029
Basic setting: Piston on TDC. (T.D.C.)
Selettra NO2019 with homologated rotor 034-IG-14
Stator NO2019 034-IG-14 2400 Wdg 90 mm DMon 00131684
Stator NO2019 034-IG-14 2400 Wdg 94 mm DMon 00131685
Coil NO2019 034-IG-14 DMon 00131683
Rotor NO2019 034-IG-14 DMon 00131686 TM,ASPA,LENZO 1:5
Rotor NO2019 034-IG-14 DMon 00131687 IAME,VORTEX,SEVERI,SEVEN 1:7,5
Basic setting: eg. 20 – 25 degrees before TDC. See diagram above
Selettra NO2019 with rotor P3356 withou homologation
Stator NO2019 034-IG-14 2400 Wdg 90 mm DMon 00131684
Stator NO2019 034-IG-14 2400 Wdg 94 mm DMon 00131685
Coil NO2019 034-IG-14 DMon 00131683
Rotor P3356
Basic setting: eg. 20 – 25 degrees before TDC. See diagram above

Selettra NO2019 with digital coil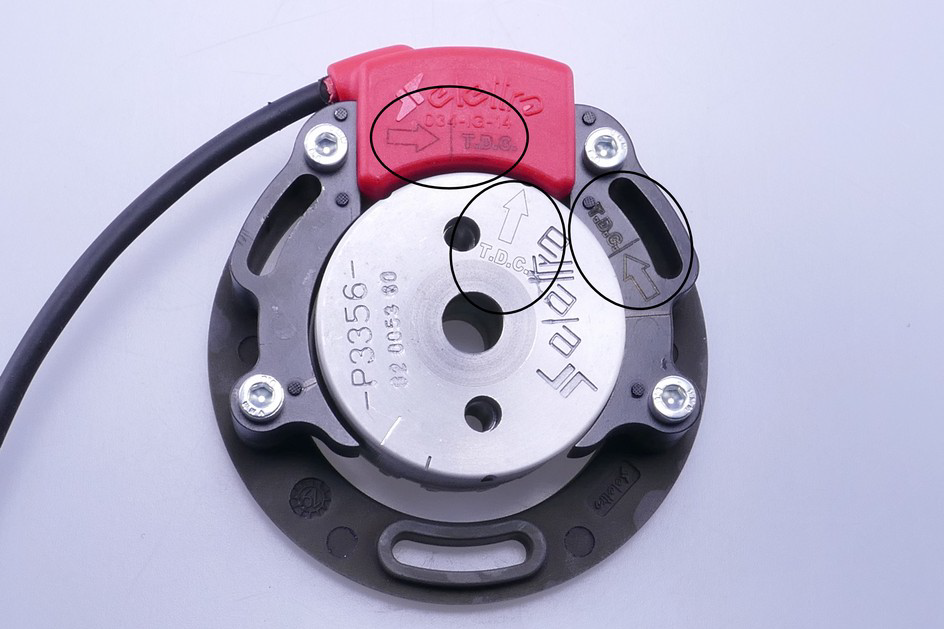 Selettra NO2019 with Rotor P3356 without homologation
Stator NO2019 034-IG-14 2400 Wdg 90 mm DMon 00131684
Stator NO2019 034-IG-14 2400 Wdg 94 mm DMon 00131685
Digital coil NO2019 with 2 ignition curves and RPM limiter DMon 00131930 – 0301256003
Rotor P3356
Basic setting: Piston on TDC. (T.D.C.)
Selettra A11 with rotor P3356 – 13° curve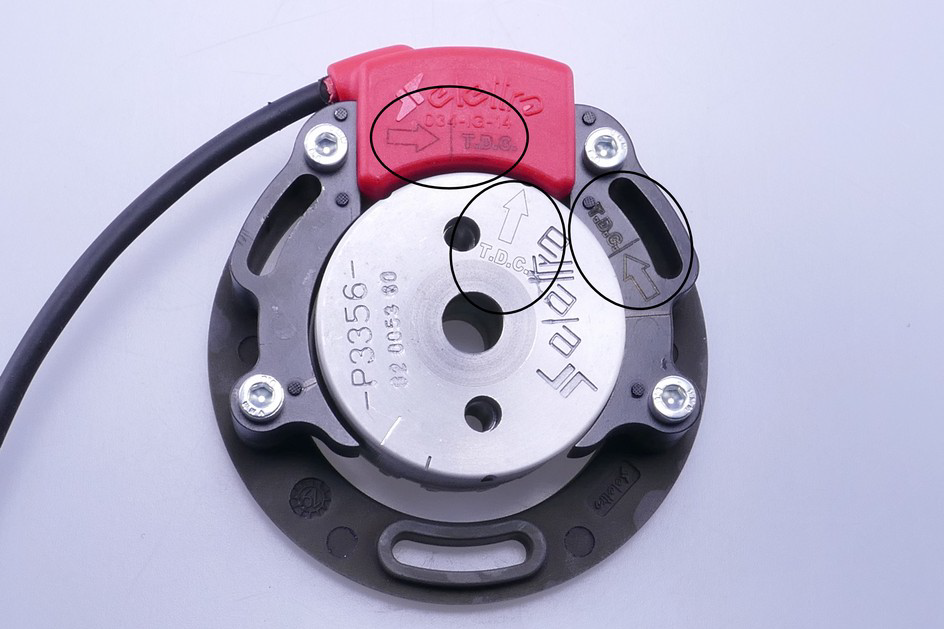 Stator A11 3700 Wdg 90 mm DMon 00131932
Stator A11 3700 Wdg 94 mm DMon 00131944
Coil A11 DMon 00131931
Rotor P3356
Basic setting: eg. 20 – 25 degrees before TDC. See diagram above